Export
"higher performance - at lower costs"
Our products are sent throughout the world from the Feralco Deutschland GmbH premises in Nienburg on the Weser, via the local ports of Hamburg, Bremen and Bremerhaven. As with our products, the quality and reliability of our packaging and transportation is extremely important to us. Our many years of experience allows us to utilise tried and tested sales and distribution channels. We only work with reliable partners. We offer our products in a wide range of packaging and sizes so that you can enjoy the very best in flexibility.
The effiency and quality of our products pays off exactly where drinking water is scarce.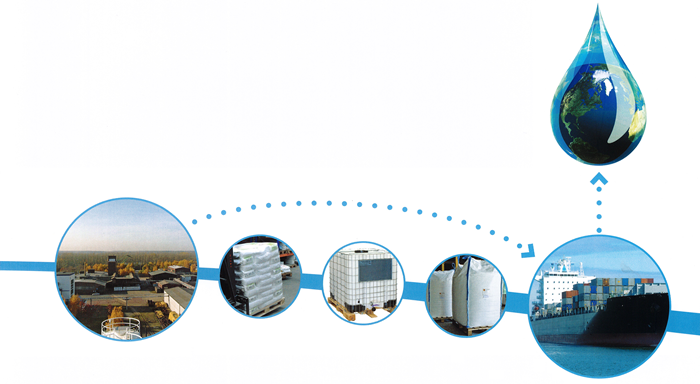 Our products are manufactured, packed and loaded into containers in our factory in Nienburg.
Strict adherence to our purity requrements, togehter with the use of certified packaging, ensures that our products are kept contamination-free. We offer customers our products in 25 kg and 50 kg sacks, as well as in BigBags and IBCs.
Our products are transported across the globe by sea. We use reliable container ships to ensure that our products reach our customers directly.